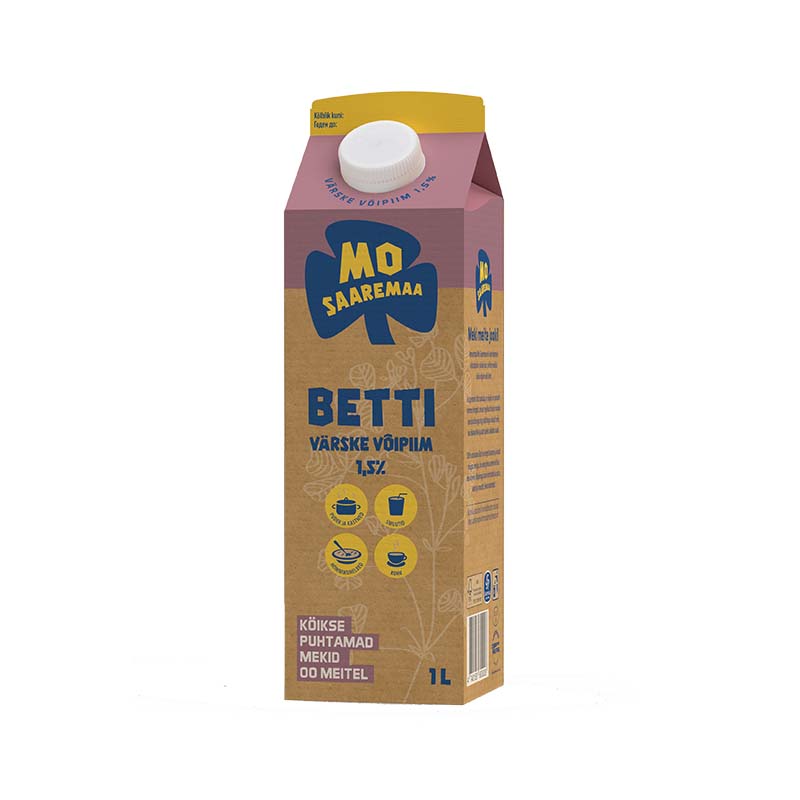 Today, Saaremaa Dairy Factory is the FIRST and ONLY producer of 100% natural buttermilk. Fresh cream sourced from the islands is foamed to produce Saaremaa butter, the most popular sunny yellow butter in Estonia. Foaming turns the cream into a creamy butter and buttermilk separates from the cream.
1 kg of golden Saaremaa butter yields 1 litres of delicious buttermilk.
Why MO Saaremaa Betti fresh buttermilk?
Betti is watery and a great thirst quencher. Due to its water content, it is ideally suited as a sports drink to maintain the body's water balance after exercising. Because water in buttermilk is mainly bound to proteins, it is slowly absorbed from the gut, making it an ideal thirst quencher.
Betti is low in fat, high in protein, nutritious and quenches hunger. It is well-suited to those watching their weight.
Betti contains phospholipids, foremost lecithin, required for the human body. During the production of butter, the membranes of fat globules are broken, which accumulate to produce butter. Lecithin with milk sugar, however, remains in buttermilk. Lecithin is also called a "memory vitamin".
How to consume?
➢ Ideal as coffee creamer. Fresh buttermilk has a creamy caramel flavour. Mixing it in coffee makes the coffee taste like coffee with 10% coffee cream.
➢ A tastier alternative to skimmed milk. Buttermilk has a buttery taste. It's sweet, low-fat, rich in calcium and protein.
➢ Ideal in porridge or with breakfast cereals.
➢ Ideally suited for making smoothies.
Read product information here:
Recipe from 1935, Järva County
Buttermilk with browned bread
Hard grated bread is mixed with sugar. Cinnamon is added, then browned on the stove. It is then put in a soup bowl. Two litres of buttermilk is mixed well, poured on the milk, then rested in a cool place.